Jungle Scout is one of the leading FBA tools. The Austin, Texas-based company was founded by Amazon Sellers in 2014 on the grounds of making product research much easier. What began as a small programming has evolved over the years into a powerful all-round FBA tool.
If you want to start or expand a successful Amazon FBA business, you need a solution like Jungle Scout. We took a close look at Young Scout and put it through its paces. In addition, we introduce you to all functions. If you like it a little cheaper and/or want to try out the FBA tool, we've got a few coupon codes for you at Jungle Scout.
Jungle Scout at a Glance
Price:
starting at $39 per month
Junglescout Discount:
Website:
1
monthJungle Scout Suite
59$
instead of regular 69$
10% discount
---
3
monthsJungle Scout Suite
159$
instead of regular 207$
20% discount
---
1 year
Jungle Scout Suite
399$
instead of regular 589$
30% discount
---
Jungle Scout review
Quality
An FBA business on the Amazon Marketplace is highly dependent on reliable data. Incorrect or even "only" slightly inaccurate data can lead to wrong decisions or actions. This can have a fatal effect on the whole business. In product research, for example, you need to know exactly how high the demand for a product is (keywords), what the quality of the competitors' listings is, or what the potential for a particular product is.
If you already offer products on the Marketplace, then as a seller you want to keep an eye on the competitors. Without a solid foundation, everything is nothing. Together with other active sellers, we have taken a close look at the data produced by Jungle Scout. The data produced is very precise and also very reliable for long-term analyses. Clearly thumbs up from us.
Our rating:
4.6/5
Value
Jungle Scout comes up with a powerful tool. If you take a closer look at the analysis tool and the Chrome Extension for product research, you will see that many programming hours have been included here. Young Scout is a very helpful support in finding a successful and suitable product for sale on Amazon as well as in the analysis of competitors and monitoring of its own listings. The data that is ejected is very precise. All in all, a good investment, for which you get a lot back. So: worth every penny.
Our rating:
4.2/5
Usability
In addition to data quality, user-friendliness is also very important. Jungle Scout manages to logically summarize complex data and visualize it logically and easily understandably for the daily operation of an Amazon FBA business. Young Scout has many tools under one screen. These are well linked in terms of content and logically. From the visually excellent data, actions and decisions can be easily derived. The menu navigation is logical and you quickly get the data and information you are looking for. This shows what is really relevant.
Our rating
4.5/5
Support quality
You never learn! And that's exactly what's true if you want to build or expand a successful FBA business. There is a lot to consider if you want to run FBA. How do I find the right product? How do I build a high-quality product listing? How do I find the right price? What do I do if my listing is hijacked? How do I deal with suppliers from China? Again and again questions arise – both with the bloody beginner and with the full professional.
Jungle Scout offers a wide range of solutions, paths and possibilities. Whether you have a question or if you want to get completely into a topic. Webinars, FBA courses, Facebook groups, blogs, podcast, email or chat. Junge Scout offers a suitable solution for all matters. We also found the short response time and the quality of the answers remarkable.
Our rating
4.5/5
Our overall rating
Jungle Scout is a name in the FBA business that you will sooner or later stumble upon. Whether it's data quality, ease of use, price or support, Jungle Scout offers an excellent all-in-one solution for your FBA business. We have been working with Jungle Scout for years and are thrilled with how much energy is invested in the quality and also in the continuous development of the tool.
Our rating
4.5/5
The tools of Jungle Scout
Product Database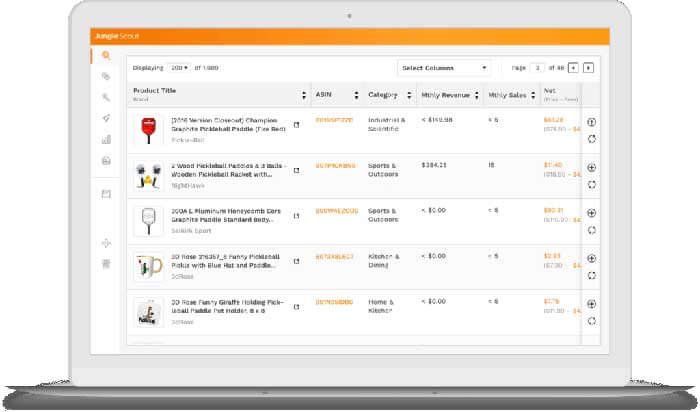 The product database is a huge database of over 70 million products listed on Amazon. Arrange and find potential product ideas that match your individual search settings. With standard filters, you can immediately develop ideas and identify products with huge potential. Filter by sales, categories, sales rank, sales, and other criteria to quickly find product ideas with high sales potential.
Learn more about Product Database
---
Product Tracker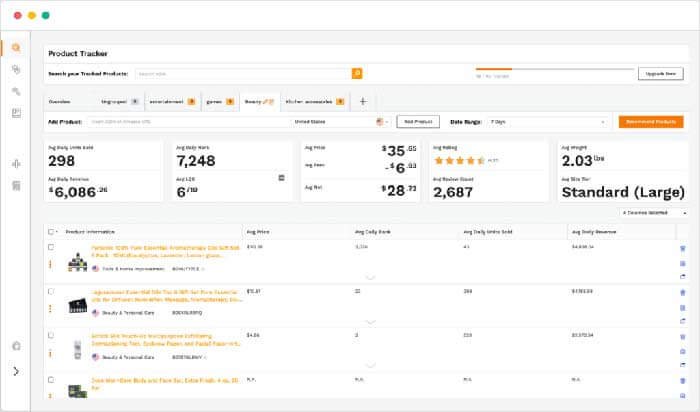 With Product Tracker, which is part of the JungleScout Tool, you can monitor potential product ideas, revenue, price and best-seller rank over a longer period to find out how successful a product really is. Monitor daily sales, best-seller rank, sales, and many other factors. Discover seasonality and unexpected opportunities.
With this tool you can find out how quickly products sell, what your margins are and what price you should get. Based on these insights, you will be able to make solid business decisions.
---
Listing Builder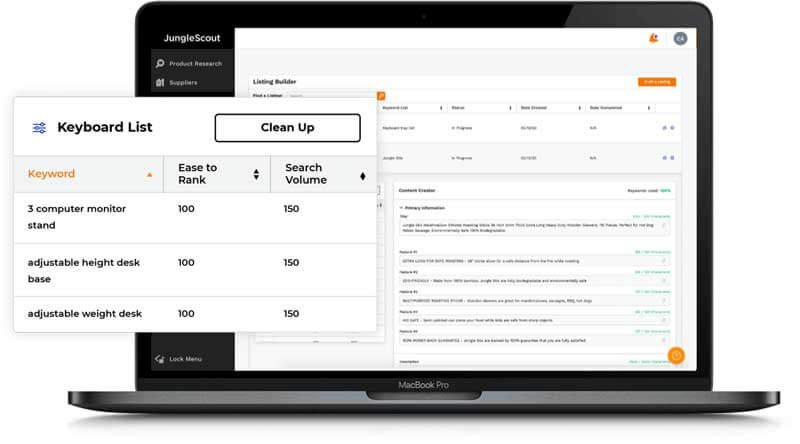 The product page of your own article at Amazon should be optimally structured and played according to specific criteria. The listing builder of Jungle Scout helps enormously. At first glance, you can see whether all relevant information is available and maintained and to what extent the article with its title, description and product data itself is optimally matched to your keywords and thus your sales goals.
More about the Listing Builder
---
Jungle Scout Review Automation
Another important task of successful FBA is to get positive reviews. Jungle Scout's Review Automation automates this process and sends out prompts to your customers to submit a review according to the set specifications. In the tool you can see who has already been contacted, who has responded and which groups are eligible for follow-up. Accordingly, a lot of time and manual effort can be saved here.
---
Opportunity Finder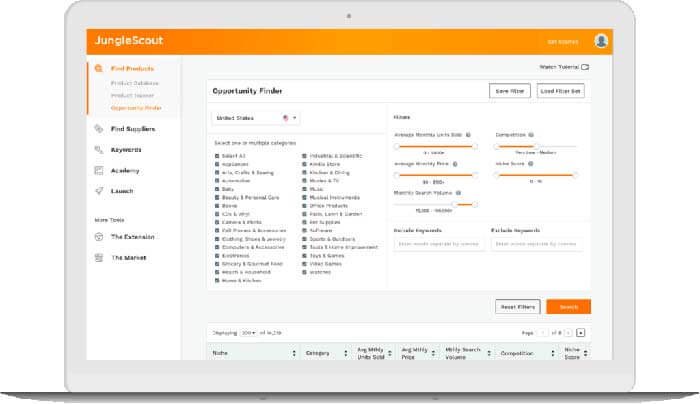 JungleScout's powerful Opprtunity Finder is the tool you need to find profitable product niches on Amazon and then launch a product with high sales potential. Instead of spending a lot of time doing manual research, you only need a few clicks to find products with high demand and low competition.
JungleScout has developed a sophisticated algorithm here, the Niche Score, which is based on demand, competition and quality of listings representing the success potential of a product on a scale from 1 (very bad) to 10 (excellent). This isn't just about a snapshot, this tool also shows you how sales data, such as sales, the average price, the search volume have evolved over a longer period of time.
Learn more about Opportunity Finder
---
Supplier Database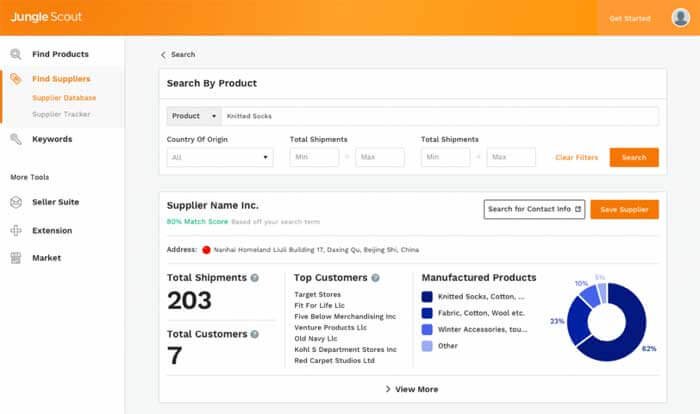 JungleScout offers with this supplier database, with which you can quickly and easily find reliable suppliers worldwide, which are also used by the largest brands in the world. Use the Supplier Database to purchase or valize a product. With the help of ASIN, suppliers can find a product within seconds.
With this tool, you can also compare offers, order samples, manage orders and monitor agreed orders and payments. Suplier Database is ideal to keep track of products, supplier lists and organize reviews.
Learn more about Supplier Database
---
Keyword Scout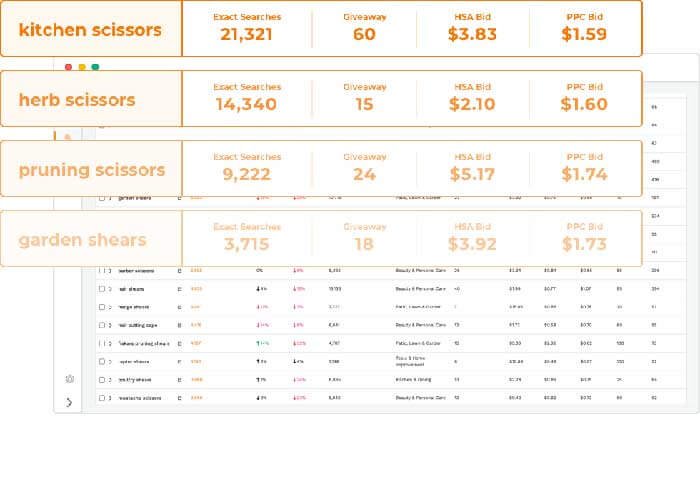 KeyWord Scout by Junglescout is currently the most accurate and comprehensive keyword research tool for Amazon on the market. A proper keyword search is one of the prerequisites for success at Amazon. With this tool you will find high-quality keyword, the respective search volume as well as the recommended PPC bid.
A special feature is that you can also find out which keywords generate traffic for a particular product by entering ASINs. In addition, it is possible to analyse keyword volumes over a period of 2 years. Trends, such as the love of a product, seasonality, etc., can be derived here. Even with your Amazon SEO strategy, you'll find it hard to get around this tool.
---
Rank Tracker
With Jungle Scout's Rank Tracker, you can view the performance of all your relevant keywords on Amazon dryly and over a long period of time. This allows you to evaluate which keywords perform particularly well for you and above all, which of your actions have an impact on the positioning. Accordingly, you can optimize very precisely and increase the share of profitable keywords.
---
Sales Analytics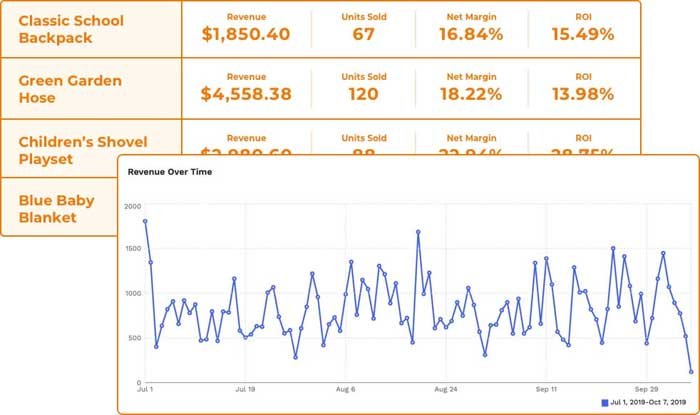 Sales Analytics from Jungle Scout monitors all sales data in real time. This allows you to focus on cost-saving and profitable strategies to make even more money with your Amazon FBA business. With this tool you have the necessary overview of your profit and loss account, your income, hidden fees, costs of the goods sold, operating costs, units sold, NET margin, ROI, sales and much more.
Learn more about Sales Analytics
---
Inventory Manager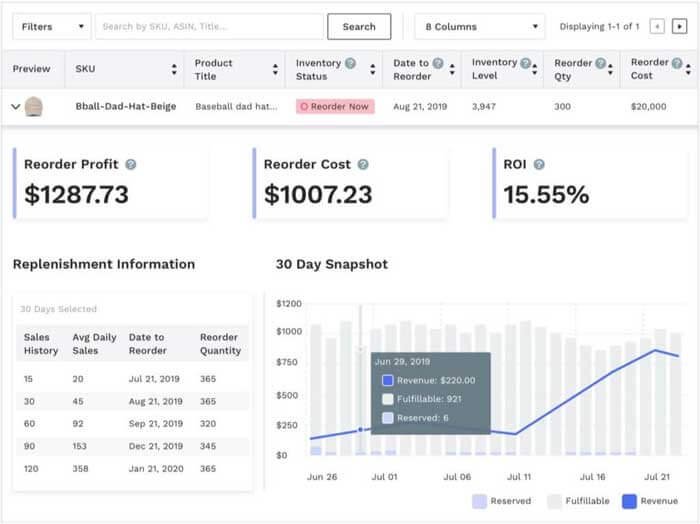 The Jungle Scout Inventory Manager will help you keep an eye on your inventory and tell you how much goods you should order when. On the one hand, this will help you to always have enough goods in stock. On the other hand, Inventory Manager will help you not to have too much goods in the Amazon warehouse to avoid unnecessary charges.
Learn more about Inventory Manager
---
Jungle Scout Chrome Extension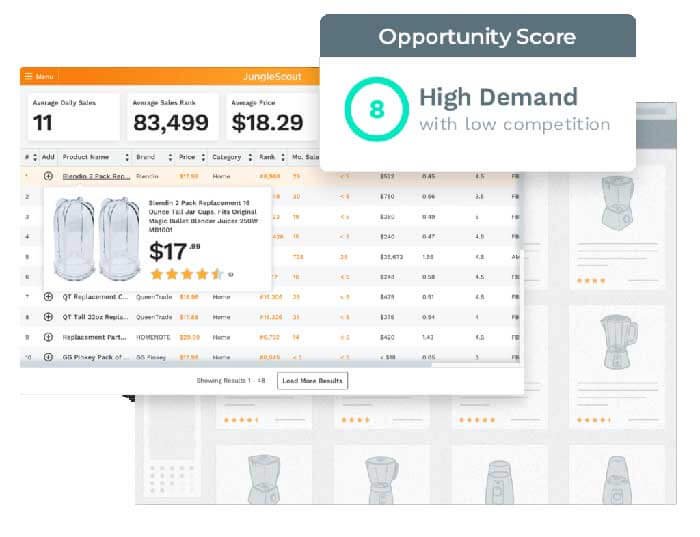 With one click, you can see real-time profit forecasts, competition data, monthly sales, price developments, customer ratings, etc. based on the selected product page or search results page. The Opportunity Scores are calculated from the demand, competition and the listing quality of a product. In a matter of seconds, you can assess whether it's worth investing in a particular product and selling it on Amazon, or rather letting your fingers go.
The Google Chrome-based extension is available separately. However, the extension becomes really powerful when you use it together with Jungle Scout.
Directly to the Jungle Scout Extension
---
Jungle Scout Alerts
The Jungle Scout Alerts give you the opportunity to receive notifications for different actions at any time. As a result, you will no longer miss important changes and can react immediately accordingly. For example, changes in price, for example by a new competitor or a competitor offer, are immediately on your radar and you can act on time. The alerts can be easily set and administered in the tool. In addition to individual products, reviews or entire competitors are also to be monitored.
---
Jungle Scout Academy
If you want to start a successful business at Amazon or expand it, you will have to learn a lot or expand your previous knowledge. If you're a bloody beginner, the Academy teaches you the basics in tutorials. Step by step, you will learn how to successfully bring your first product to market. For particularly tricky ones, you can contact Jungle Scout experts for weekly tutorials or interact with other sellers on the community forums. Monthly livestream training sessions will help you further develop your knowledge.
More about Jungle Scout Academy
---
Jungle Scout FAQ
Who is Jungle Scout suitable for?
Jungle Scout is an all-round FBA tool that is suitable for those who have no experience with Amazon FBA to the Super Seller, which has a seven-figure annual turnover and wants to tickle even more.
Is Jungle Scout 10 can be cancelled every month?
Jungle Scout now offers its entire suite, which also includes the Chrome extension. All packages can be booked on a monthly basis. If you not only want to try out, but want to operate Amazon FBA in the long term, we recommend booking an annual package, because this results in a high savings potential.
Is there a free version of Jungle Scout?
Jungle Scout does not offer a free basic version. This should not be deterred. Considering how much features a Jungle Scout has to offer, the price is more than reasonable. But if you want to get a taste of it, but don't want to take any risks, Junge Scout offers the opportunity to resign from the contract after 14 days if you don't like it.
Is Jungle Scout available on german?
Jungle Scout is available in English and Mandarin Chinese. At Jungle Scout we asked if a German language version is planned. After all, Germany is the largest marketplace after the USA. Yes, a German language version is planned, but the implementation will take a little longer. But don't worry: with solid basic knowledge, You can cope very well with Young Scout.
What are good alternatives to Jungle Scout?
Currently, there are two powerful all-in-one providers of Amazon FBA tools. These tools offer the full range of fire widths needed to build or expand a successful FBA business. According to the motto "competition enlivens the business", Helium 10 and Jungle Scout are a head-to-head race.